When you're vacationing in Indianapolis, you don't have to break the bank to stay occupied. There are plenty of free or cheap activities that will provide you with hours of fun. Add some of these exciting destinations to your list when planning a budget-friendly trip.
Treehouses at Flat Fork Creek
Flat Fork Creek is a fairly new park that's home to three amazing treehouse structures. Located at 16141 E. 101st Street, these treehouses will give you and the children hours of fun. There are challenging walkways to navigate, stairs to climb, and ledges to look over. Best of all, the entire complex is surrounded by lush green trees and plants, making it an exotic adventure in the middle of an urban center.
Virginia B. Fairbanks Art and Nature Park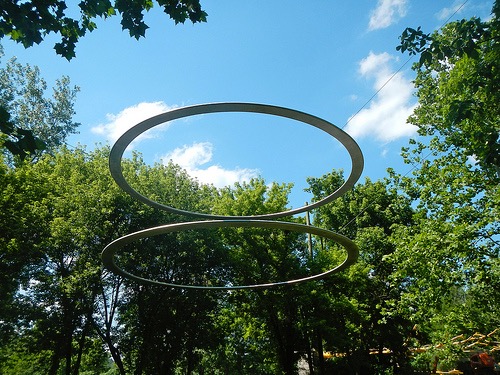 Image via Flickr by PunkToad
One more outside attraction you should check out is the Virginia B. Fairbanks Art and Nature Park, which is affiliated with the Newfields Museum. It features 100 acres of wetlands, woodlands, and meadows surrounding a 35-acre lake. While gazing upon nature's wonders, you can check out the various art installments scattered throughout the park. If you're a fan of "The Fault in Our Stars," you'll probably recognize the piece Funky Bones, which inspired the set for the park in the movie. Admission to this park is free.
Hunter's Honey Farm
Just outside the city in Martinsville is Hunter's Honey Farm, which is a family-owned enterprise that harvests the delicious nectar from honey bees. They also sell a number of honey-related products, including beeswax candles, lip balm, honey wing sauce, and honey vinaigrette. Tours through the farm are relatively inexpensive, ranging from $4.25 to $5.25 depending on the type that you select.
Circle Centre Mall
In the middle of downtown Indianapolis is Circle Centre Mall. While there's plenty of shopping to be had, this space is much more than a retail paradise. It also includes a movie theater, 10 restaurants, and 12 hotels. To promote culture in the area, the attached Arts Garden also hosts 300 free activities throughout the year. This includes things such as lectures, musical performances, dance performances, festivals, and visual art exhibits. Check to see what's happen during your visit so you don't miss out on anything fun.
The Waterpark at the Monon Community Center
Waterparks don't usually bring thoughts of affordability. However, the Waterpark at the Monon Community Center offers a special discounted rate after a certain time, making it a steal. Admission costs only $5 for adults if you enter the facility after 4 p.m., which is a discount of 50 percent. All pools in the complex are heated to a minimum of 78 degrees, making them comfortable and relaxing. Float down the 220-yard Lazy River, zoom down the Plunge Slide, or hop on the Lily Pads.
Pair your budget activity itinerary with an equally affordable hotel. There are plenty of downtown accommodations for under $100 a night, including the Courtyard at the Capitol, Springhill Suites by Marriott, and The Westin Indianapolis.
Once you've booked your hotel and planned your activities, you'll be ready to enjoy your trip to Indianapolis.